marile minti gindesc la fel: si noi si NYTimes am rugat barmani celebri sa creeze cocktailuri inspirate de filmele nominalizate la Oscar.
despre ale noastre am scris aici (le puteti degusta miine seara la Tabu Oscar Party), despre ale lor puteti citi aici
iata si doua dintre cocktailurile lor:)
Named for the best actress nominee (for "Black Swan") and created by Eamon Rockey of Compose.
Beforehand, chill red wine that's been sweetened slightly with sugar (about a tablespoon per half cup of wine) and steeped with lemon peels. Next, combine one and a half ounces of Brooklyn gin, three-quarters of an ounce of lemon juice, a half-ounce of triple sec, a quarter ounce of gum syrup and an egg white. Shake and strain into a cocktail glass. Using a funnel, pour the red wine into the bottom of the glass so it forms a deep layer of color. Mist the top of the cocktail with absinthe (if you don't have a spare mister, drizzle a few drops of absinthe) and garnish with a few dashes of Angostura bitters.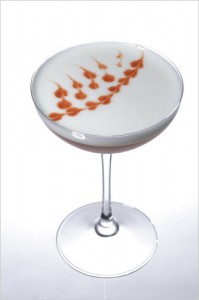 The Helena Bonham Carter
Named for the best supporting actress nominee (for "The King's Speech) and created by Meaghan Dorman of Raines Law Room.
This will go into an absinthe-rinsed cocktail glass, so first swirl some absinthe in a glass, then pour it out. Next, combine three-fourths of an ounce of apricot liqueur, an ounce of Cocchi Aperitivo Americano and one and a half ounces of Plymouth gin. Stir with ice and strain into the glass. Spritz with lemon peel oil (by squeezing a zest of lemon over the drink) and garnish with a twist of lemon peel.